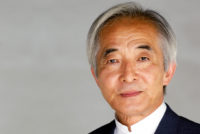 Japan P.E.N. Club Statement A call for the humane treatment of Liu Xiaobo
Japan P.E.N. Club Statement
A call for the humane treatment of Liu Xiaobo
There are reports that Liu Xiaobo's medical condition has deteriorated.
Liu Xiaobo worked to improve the human rights situation in China as vice-chairman of the Independent Chinese PEN Center, and he was awarded the Nobel Peace Prize. Since 2008, however, he has been detained by the Chinese government. According to news reports, due to the worsening of his liver cancer he has been transferred from prison to a hospital, where he is being confined while receiving medical care.
The Japan P.E.N. Club has repeatedly called upon the Chinese government to release Mr. Liu and improve the human rights situation in China.
Contending that "There are very good liver cancer treatment specialists in Japan," Mr. Liu's relatives have expressed the desire for him to receive treatment abroad in Japan or elsewhere.
We, the Japan P.E.N. Club, strongly urge the Chinese government to fully guarantee Mr. Liu's freedom of action (overseas travel included) so that he can receive medical treatment in accordance with his own and his wife's wishes, and we also ask the Japanese government to endeavor to exert influence on the Chinese government from a humanitarian perspective.
June 29, 2017
The Japan P.E.N. Club
Shinobu Yoshioka, President