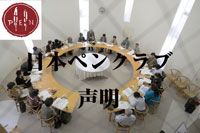 The Japan PEN Club statement "Freedom in Hong Kong ~ Our democratic values are also threatened"
"Freedom in Hong Kong ~ Our democratic values are also threatened"
Freedom in Hong Kong is under threat. The basis for the survival of people who want to live freely and autonomously as well as freedom of speech is being lost.
We have been following closely the movements of authorities and citizens over the Hong Kong National Security Law. However, since the enforcement of the law at the end of June, the Hong Kong authorities have blocked pro-democracy campaigning for legislative elections, arrested pro-democracy activists and students one after another, raided the home of a local newspaper, arrested the founder of the company, and arrested Ms. Agnes Chow Ting who has appealed to Japan and the rest of the world about the crisis of democracy in Hong Kong. Although some of them have been released on bail, the series of forcible measures restrict freedom of speech and have resulted in a depressing silence and atrophy.
If the freedom, human rights and diversity of people living in a country or region are deprived, the future of the society will be lost. Hong Kong, which has developed under the "one country, two systems" policy that China has pledged internationally, is now in crisis. If the law is applied not only to the activities of Hong Kong people living in other countries, but also to the activities of foreigners supporting the freedom and democracy of Hong Kong, the democratic values of freedom of speech and expression around the world are threatened.
We urge the Hong Kong authorities to immediately release all those arrested for their freedom and democratization activities in Hong Kong and to end their authoritarian response immediately.
We urge the Japanese government to persevere in persuading the Hong Kong authorities and to actively accept those who are forced to leave Hong Kong and seek protection.
August 12th, 2020
Shinobu Yoshioka
President
The Japan P.E.N. Club