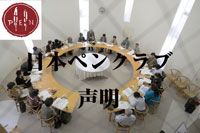 The Japan P.E.N. Club Statement "Tokyo 2020 Organizing Committee should not control the press. Multifaceted reporting is required in the mass media."
  Tokyo2020 Organizing Committee is causing another problem. This time, in response to the weekly magazine, Shukan Bunshun's coverage of the opening ceremony, the Organizing Committee demanded the suspension of sales and the recall of the magazine including the deletion of online articles.
   How many scandals are you going to spread, starting from the scandal over the redesign of the National Stadium and the emblem plagiarism to the discriminatory remarks of the former president and the recently resigned director of the opening and closing ceremony? It is natural for the mass media to cover and report the inside story and to point out the problems of the "national project" that is held with a large amount of tax money.
    According to Shukan Bunshun, the ceremony plan was designed by a director whose contract was terminated without her knowledge. The Organizing Committee's call for the article to be recalled or deleted is almost equal to admitting that the opening ceremony will be held as it was. The Mainichi Shimbun' article has also a good point.
 It goes without saying that the Organizing Committee's series of demands are tantamount to the control of the press and the infringement of the right to know. More than that, however, it is disappointing that the Organizing Committee is not able to come up with a new production plan and its demands is revealing unconsciously the fact that the leaking plan is valid. It is not too late the Organizing Committee should withdraw its demands to both media.
  Reports of the Olympics have started to emerge from the current torch relay stage. According to the rules of the International Olympic Committee (IOC), online video footage of the national newspaper, Tokyo Shinbun's reporter filming a corporate advertisement car running in Fukushima Prefecture with loud sounds could only be posted for 72 hours. When NHK (Japan Broadcasting Corporation) aired a relay in Nagano Prefecture on the Internet, the video suddenly became silent, erasing voices of citizens protesting against the Olympics.
  Does the IOC or the Organizing Committee have the authority to regulate news reports on all Olympic events, including those on public roads? Does it violate the freedom of speech and expression guaranteed by the Constitution? There are pros and cons for holding the Olympics under the Covid-19. Isn't it the job of the media to convey diverse realities?
  It is hoped that the Tokyo Olympics 2020 will be held successfully, and that the event will not end with the impression of the high-handed control of speech, the tumultuousness of commercialism, and the mass media's uproar.
 April 6, 2021
 Shinobu Yoshioka
 President
The Japan P.E.N. Club