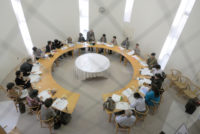 Japan P.E.N. Club Statement – The Exhibition "After 'freedom of expression?'" in Aichi Triennale 2019 should be continued
Producers are free to create and receivers are free to appreciate. If there is no space for communication between creation and appreciation, whether one agrees or disagrees, the significance of art will be lost and the spirit of freedom, which is the driving force of society, will shrink.
Takashi Kawamura, Mayor of Nagoya City, requested an immediate suspension of the exhibitions of "The Monument of Peace" and others in "After 'freedom of expression?'" in Aichi Triennale 2019 and Chief Cabinet Secretary Yoshihide Suga and others issued comments suggesting a suspension of the subsidy for the exhibitions.
Such statements by key government officials are nothing short of political pressure and lead to "censorship" prohibited by Article 21, Paragraph 2 of the Japanese Constitution. Moreover, we cannot help but say that he does not understand the significance of art, which has made people human since the birth of mankind and contributed to the expansion of society.
What the administration should do now is to secure opportunities for communication between creators and viewers through their works and to encourage their public display. We must guard against shortsightedness and celebrate the cultural diversity fostered by public displays of art.
3 August 2019
Shinobu Yoshioka
President
The Japan P.E.N.Club